Nous sommes heureux de vous annoncer que nous sommes certifiés "Vaud Œnotourisme" ! En plus de vins de très grande qualité, la Suisse propose aussi une offre immense d'expériences. Découvrez la jouissance culturelle et œnophile de la vigne, du vin et de son terroir !
Terre d'inspiratin et classé au patrimoine mondial de l'UNESCO, la région du Lavaux est l'une des plus belles de Suisse ! Avec des kilomètres de murs et de terrasses soigneusement entretenus par les vignerons d'aujourd'hui, les vins qui y sont produits sont excellents ! À la carte, vous trouverez entre autre une sélection de l'Union Viticole de Cully, Les Frères Dubois, ou encore Gaudain.
Situé sur la rive droite du Rhône, le Chablais est l'une des région vinicole les plus importante. Elle s'étend entre le lac Léman et les Alpes sur environ 590 hectares ! Vous trouverez à notre carte des vins des Artisans vignerons d'Yvorne ou de la Maison Gilliard.
La région de La Côte représente plus de la moitié de la surface viticole vaudoise ! Les cépages cultivés dans cette région accèdents à ses excellentes conditions, la topographie ainsi que la métérologie sont les gros avantages de ces terres ! Dégustez à notre carte des vins du Domaine La Capitaine, Henri Cruchon,Cave de la Côte.
Avec plus de 180 hectares, l'Appellation Bonvillars s'étend de Montagny-près-Yverdon à Concise en passant par une succession de villages et bourgs pittoresques ! Puisant dans la roche calcaire et les sols graveleux les caractéristiques minérales de leur terroir, la région y donne des vins magnifiques ! Nous proposons à notre carte : Domaine D. Gaille, Cave Bonvillars, Cave Du Pasquier,Vignoble Cousin.
Le vignoble des Côtes de l'Orbe est la plus ancienne région viticole de Suisse ! À mi-chemin entre les lacs Léman et de Neuchâtel, l'appellation s'étend sur une vingtaine de communes sur une superficie d'environ 180 hectares. À notre carte vous trouverez : Château de Valeyres, Cave des 13 Coteaux.
Le Vully est la plus petite des grandes régions viticoles de Suisse. À califourchon entre deux lacs, il jouit d'un climat qui évoque la douceur méditerranéenne.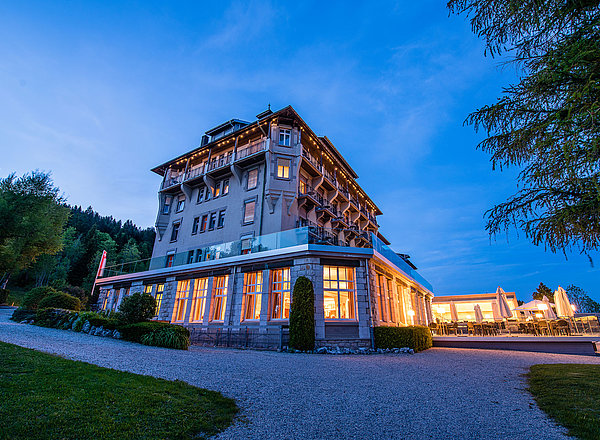 The hotel
With 44 rooms and junior suites that have retained all the authentic charm of the various construction periods, the Grand Hôtel des Rasses stands in the heart of a park against the backdrop of the long chain of the Alps.
The offers
Hotels, restaurants, events, find all our regularly renewed offers.
Events
The Grand Hôtel des Rasses offers its hotel, various reception rooms, restaurant, terraces and gardens for the organisation of events in an exceptional setting.